This is our effort to make trikes available to those people in the community who don't feel they can ride a bike without danger or people who live with a physical or cognitive disability.
Trike'N Rides is an operating unit of WAAO Inc., a Texas 501(c)(3) corporation. We started three years ago offering rides to older residents using two TrikeShaws from Denmark (see Cycling Without Age) and during the cooler months we got a good contingent of riders. Now we are investigating the opportunities for offering rides using trikes that allow our guests to actually pedal and get some exercise.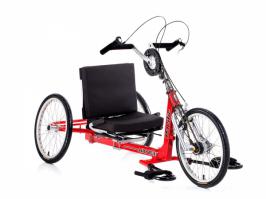 One of the special trikes we have is a hand cycle. This has a hand brake, coaster brake and 7 gears. Besides being a great ride for someone who doesn't have use of their legs it is also a great workout for upper body strength.
We also have a duel team trike that allows two people to pedal independently. That means someone can take a friend out who is less able or who is vision impaired and both can still get exercise.
Here is a link to our business proposal.